About Us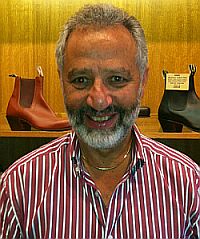 Dear Internet Friend,
The Stitching Horse Bootery was established in 1977 primarily to provide the best in boots and outdoor footwear to Australians. This was a labour of love by a boot devotee who believed Aussies had been missing out. The store operated as a retail outlet and a mail order operation. In those days we concentrated on Frye Boots, Timberland, Stewart Boots, Redwings and Sperry Topsiders from the USA. Of course at the same time we also stocked the traditional Australian elastic sided R.M. Williams Boots and Moleskin pants.
Our store is visited by thousands of tourists from the USA and Europe and they usually purchase these wonderful R.M. Williams products to take home with them. This is often followed up with a phone call or letter requesting additional items for family and friends. So in a small way we are doing something to spread the word about these famous Australian products and introduce our visitors to the comfort of soft moleskin pants (densely woven cotton that even a snake cannot bite through), and elastic sided boots that Australian bushmen (city and country) had been enjoying for 70 years. In the late 80's, major films like Crocodile Dundee and The Man from Snowy River exposed the Aussie bushman and his attire to the world.
Now, through the reach of the Internet and Boots Online we can offer you these same products as easily as if you were shopping in your own Main Street. Maybe even easier. ECI will deliver to your door anywhere in the world a few days after shipping from Melbourne, Australia. We will E-mail you a consignment note number and you can monitor the progress of your shipment via the ECI Parcel Tracking Site on the Internet.
We are really excited about this prospect. Legendary Australian products – R.M. Williams Boots and Moleskins, Akubra Hats and Driza-Bone Coats, viewed on your screen via the Internet, ordered by E-Mail or fax on Sunday, collected by ECI in Melbourne on Monday and delivered to your door anywhere in the world before the end of the week. You can wear it on the weekend.
Don't forget to read the comments of our customers. Our future depends on satisfied customers and that's what we do.
All prices are quoted in Australian dollars and an approximation is shown of the price in your own currency. This will vary slightly according to the rate of exchange on the day the transaction is processed.
We accept payment by PAYPAL, VISA and MASTERCARD..
Have a browse through our Online catalogue and when you see the item you really can't live without, add it to the Shopping Cart. When you have finished go back to the Shopping Cart, complete your personal details and send it to us. We'll do the rest. Of course if you ever travel Down Under come in for a beer.
Please e-mail any comments you might have on the format of this site so that we can continually improve it for you.
Sincerely,
Barry Michaels
Boots Online – The Stitching Horse Bootery